Handbell

Ringer Apprenticeship Program

(Adopted March 9, 1991)

The cirriculum of the Regina Bell Ringer Handbell Training Program is designed to produce an "INTERMEDIATE" handbell ringer; a ringer who can competently and confidently attend international handbell events and participate at the intermediate level.
I. Practical
A. The Basic Ring/Sight Reading
- 1 bell
- 2 specific bells (and their accidentals)
- any 2 bells in the 3 octave set (and their accidentals)
B. Tower Bells
- able to play 12 rounds
- able to play the 12 song standard repertoire in the singing song style
- understanding of general care and maintenance
- assist a tower bell ringer or apprentice upon request on 10 occasions. (minimum 8 ringing sessions).
C. Maintenance
- partipate in a miminum of 6 handbell cleaning bees
- able to replace defective parts
D. Repertoire
- able to play any 2 bell assignment within the brass, harmony, melody or obligato in the standard 10 piece repertoire. Must learn at least one piece in each position.
- rounds and changes (plain hunt and table)
- 5 piece solo repertoire
E.
Handbell

and Musical Notation (and execution)

- identify notes and bell names in 3 octave set

- shake, thumb damp, martellato, tower swing, gyro, pluck

- L.V., damp

- dynamics, tempo, accents, rubato
II. Administrative/Historical
A. Performances
- demonstrate understanding of process required to produce a public performance. Space, setup, transportation, advertising, etc.
B. Marketing
- represent the Regina Bell Ringer organization in a favourable and knowledgeable manner; instigate 2 paying performances
- encourage the development of new handbell music
C. Music Writing
- add one original piece of music or new arrangement of an existing work to the Regina Bell Ringers' music library. The piece may be written and /or arranged by the ringer or coordinated by the ringer (eg. coordinate the Composer's Competition)
D. History
- 10 historical/developmental handbell facts, at least two of which have not been studied by a previous apprentice.
- general overview of pre-1750 and post-1750 music
III. Peer Acceptance/Team Work
All apprentices are expected to attend rehearsals regularly, inform the director if they are unable to attend, participate in the setup and tear down process, and assist in the transport of the instrument to and from performances.
All apprentices are expected to contribute or coordinate a physical improvement for the choir. Improvement projects should be approved by the choir before they are begun.
---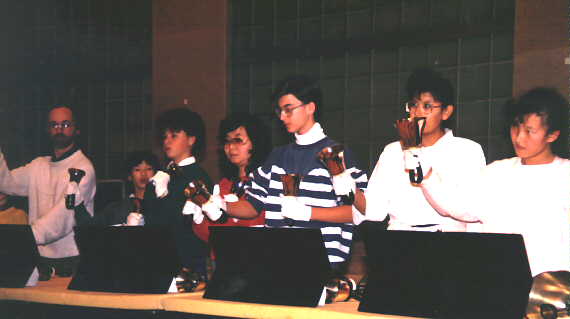 ---
The program can be completed in 3 years but there is no time limit for completion. Upon completion the ringer becomes a voting member of the Regina Bell Ringers organization.
Upon becoming a graduate of the handbell program the Regina Bell Ringers encourage the ringer to continue learning about the instrument and improving their technique. Four in hand, six in hand, being able to play different rhythms in each hand simultaneously, playing any position in the 5 octave choir, ensemble ringing, as well as understanding music arranging, music history and handbell repair.
---

Return to [ Home ]

Revised: August 18, 2005